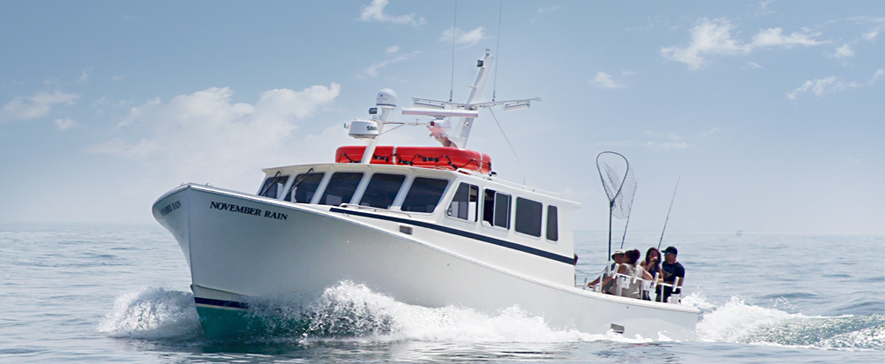 Montauk, NY
It's finally official...NOVEMBER RAIN is now certified as a Small Passenger Vessel. We had our last visit with USCG today. They looked over everything on the boat -- from electrical work, to fire suppression systems, to safety equipment, to required navigation aids, publications and logs. Even took a quick ride for a man-overboard drill. When all was said and done, we received our long-awaited Certificate of Inspection (COI). Effective immediately, we'll be able to carry up to 28 passengers!!! Granted, we won't be advertising to carry that large of a group, but having the flexibility for non-fishing trips (i.e. sunset cruises) is tremendous. Many thanks to the members of Coast Guard who conducted the inspection. They were knowledgeable and patient with us and addressed all of the questions we had. And, of course, super thanks again to Atlantic Service and Equipment for all of their hard work on the boat. We're finally there! First multi trip is tomorrow!
Far Rockaway, NY
Had our stability test today. Passed with flying colors. Expect to be certified for 25 passengers (or so). Inspection will likely be next week. For now, we'll sail as a 6-pack. Fortunately, next few trips are 6 or less. We should have the COI in a couple of weeks. Sea-trialed the boat a little while ago.
Making a few last tweaks. Then steaming east Thurs/Fri.
Hats off to the boys at Atlantic Service & Equipment. Seriously. Just an absolutely tremendous job.
And, likewise, to the Lowell family for building an outstanding hull!!! Hit 26 knots today and the boat, as big and solid as it is, just cut through the water. Was AWESOME!!
Here are a few pics, including one with the AS&E crew puttin' a load on her!
Far Rockaway, NY
Still on the hard. Should be floating tomorrow morning. But here's a little music to my ears...